Ziptrek to pause operations until at least May 25th
Please take a moment to read our latest COVID-19 update.
PLEASE NOTE ONLY EAGLE TOURS ARE CURRENTLY RUNNING (WINTER SEASON 2020_21)
Gift Certificates can be purchased for any dollar amount, or for specific tour offerings, and redeemed as payment for any Ziptrek tour when you pay in person or book online.  Customize your gift with the recipient's name and a personal message.  Gift certificates and receipts are delivered instantly by email and can be printed at home or shared electronically. 
After clicking on the "Buy Gift Certificate" button below, you will first be presented with the "Amount" option. If you wish to purchase a gift certificate for a specific tour, click on the "Experience" tab and you will be presented with the Activity field with a drop down feature which allows you to select your preferred tour option.
Ziptrek prices will vary by tour, and by the number and age of the participants, so you are free to choose any dollar amount you wish.  Here are two examples of gift certificate amounts for two adults, including tax (5% GST):
You can find out more about our tour prices on our website, or by booking online.
Can't decide which tour will make the best gift? Read our Adventure Gift Guide to help you choose. (But please note, since Covid, only select tours are on offer each season).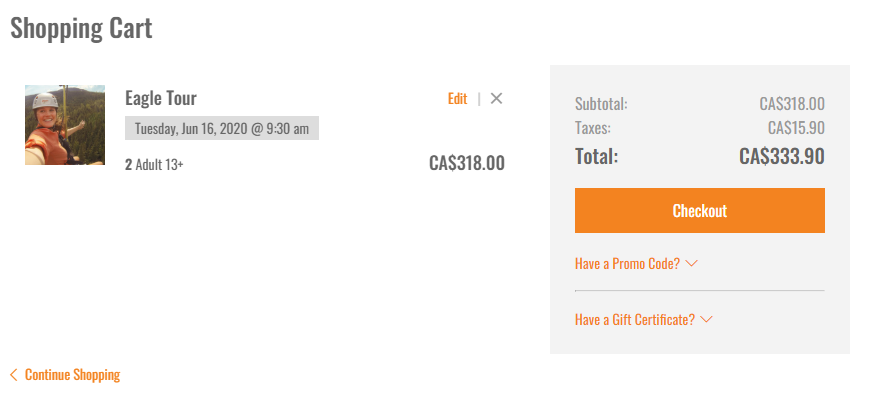 It is easy to redeem a gift certificate when you book online.  Enter the unique code on your gift certificate (eg. ZT-12345) before checking out.  Look for, "Have a Gift Certificate?" just below the Checkout button on the Shopping Cart page.
The full amount of your cart will be deducted from your gift certificate.   If your gift certificate has a balance, it can be applied again to other bookings.  If there is an amount still owing after applying your gift certificate, you will be able to pay the remainder using a credit card.
Gift certificates should be treated like cash, and cannot be replaced if lost or stolen.