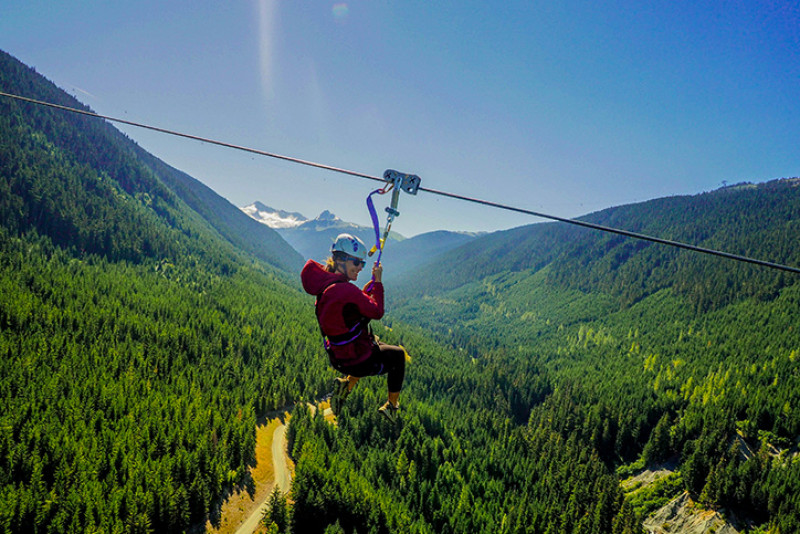 Whistler is home to many glaciers which carved out and shaped the valley during the last Ice Age. These forces of nature receded to the mountain tops where they continue to slowly transform the landscape. What is a glacier? A glacier is defined as "a slowly moving mass or river of ice formed by the accumulation and compaction of snow on mountains or near the poles."
Glaciers are also responsible for a number of the lakes in the area - in fact, the glacial melt is what gives the alpine lakes their inviting turquoise hue.
Here are a few of our favourite local spots to take in these ancient forms:
Sea to Sky Highway
You don't even have to wait until you get to Whistler to see one! Pull off the highway at the designated viewpoint to be rewarded with a jaw-dropping view of the Tantalus glaciers huggin the jagged mountain peaks.
Sasquatch Zipline
Once you've ziplined through the forest and into the belly of the beast a glance up the valley will reveal the Fitzsimmons glacier sitting atop Mt Fitzsimmons.
Alta Lake, Rainbow Park
You can take in a stunning view of Armchair Glacier and the surrounding mountains while you swim in the lake or relax on the grass.
Blackcomb Mountain
Hike the Overlord Trail on Blackcomb Mountain to come face to face with the immense glacier embedded on the range's highest peak, Overlord Mountain (2625 m / 8612 ft).
Skywalk Trail
Whistler's newest (and quickly becoming a favourite) trail, this hike will take you on a journey up to Iceberg Lake where a glacier sits right on the water's edge.
Wedgemount Lake
An advanced but rewarding hike up, once there you'll be greeted by a large glacier descending from the mountain top to meet the beautiful turquoise lake.