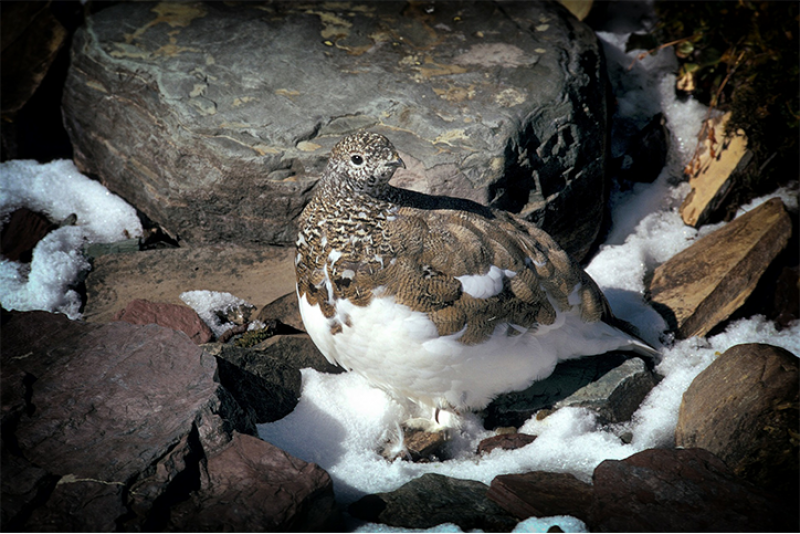 You may be lucky to spot this remarkable bird in the alpine on Whistler or Blackcomb during one of our Peak 2 Peak Combo Tours. Or perhaps you noticed the oddly named street (Ptarmigan Place) in town or the ski run (Ptarmigan) on Whistler mountain. In this feature we'd like to introduce you to the smallest ptarmigan in North America, and one of our local residents, the White-tailed Ptarmigan.
This chubby little bird is interesting because it changes its molt pattern according to the season and corresponding breeding cycles. In the winter they are white from head to toe except for their beady black eyes and beak (photo below). When spring arrives, the birds change to a combination of white and mixed grey-brown (photo above). By summer they have completely transitioned into a grey-brown bird with the only evidence of white remaining on their funny feathered feet. By changing colours they can stay camouflaged during the corresponding season to help protect them from predators.
The White-tailed Ptarmigan is an alpine bird who breeds and nests at or above treeline and prefers to live in rocky areas, krummholz, moist vegetation near snowfields and streams, and willow-dominated plant communities. During the winter it protects itself from the wind and harsh weather by burrowing into the snow. This bird is well suited to living in cold, open alpine habitats with low metabolic rates and heavily feathered feet that also act as snowshoes.
Another strange feature of this unique creature is that it prefers to walk over flying. You may even see it running across a ski run (Ptarmigan perhaps?) on Whistler or Blackcomb mountains. If you are fortunate enough to spot one, be sure to keep your distance and allow it to naturally enjoy the rest of its day.
Since British Columbia constitutes such a large portion of the White-tailed Ptarmigan's habitat, the province has a global responsibility to help conserve this beautiful creature. Climate change is a threat to the White-tailed Ptarmigan's nesting habitat if treelines continue to rise.
Don't forget to keep an eye out for this wonderful bird on tour!