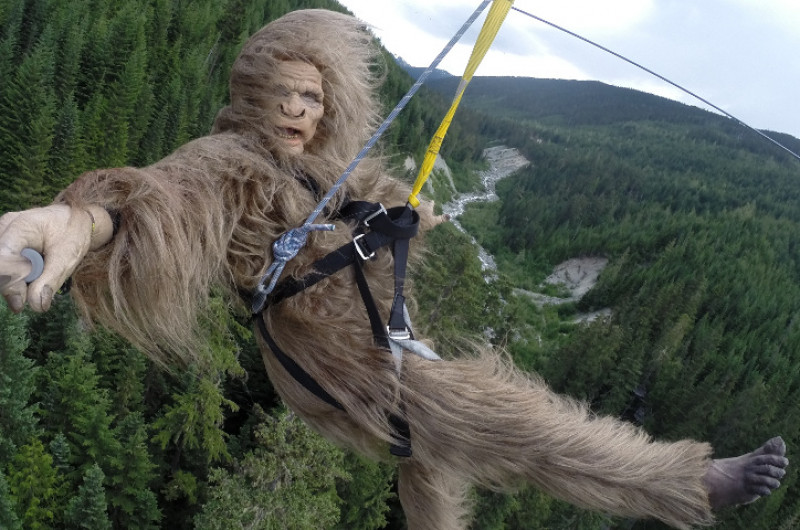 WHISTLER'S ZIPTREK ECOTOURS TO NAME NEW ZIPLINE –THE SASQUATCH™
Announced recently, Ziptrek's new +2 km zipline,
set for a mid-July opening will carry the moniker
The Sasquatch™ Zipline!

WHISTLER, BRITISH COLUMBIA, May 12, 2015 – Ziptrek Ecotours, based in Whistler, Canada, who announced back in late March that they would be launching a ground-breaking zipline in the popular resort destination, have now released a name for the new line.
"Our current zipline tour offerings all have associated names, which happen to be animal based, so we figured it was fitting to continue in that custom. In the case of Sasquatch, we loved that it carries some mythical and mysterious aspects to it, and is typically thought of as thrilling and formidable, like the new zipline will be, explains Ziptrek Director of Marketing Warrick Hubbard.
Set to run a mind-blowing distance of over 2 kms, the zipline will fly guests from a launch high up on Blackcomb Mountain to a landing near mid-mountain on Whistler Mountain, making it the longest zipline in Canada and the USA.
"The other characteristic of Sasquatch that we were drawn to was that it has quite a strong tradition and association with the Pacific Northwest", further noted Hubbard, "not to mention there is often an appeal or fun aspect, especially for guests, to have a character or persona tied to your product".
For more detailed information on Ziprek's current operations, and to keep abreast of developments on the new line, please visit their website at ziptrek.com.
Ziptrek Ecotours is a global leader in zipline based, adventure ecotourism. Ziptrek's flagship location in Whistler, Canada first brought prominence to ziplining in North America and their second world class location in Queenstown, New Zealand has now set the standard for zipline based tours in the southern hemisphere. Ziptrek Tremblant, in Quebec, Canada is poised to continue this trend of delivering unique and unparalleled guest experiences. These three landmark locales and other high profile projects including ziplines in downtown Vancouver, Canada as a feature attraction of the 2010 Olympic Winter Games, and an installation at Super Bowl Village 2012 in Indianapolis, USA have established Ziptrek Ecotours as a preeminent name in the adventure tourism industry. To learn more visit ziptrek.com
-30-
See advertised version of the release here.

For further information:
Warrick Hubbard
Director of Marketing, Ziptrek Ecotours
E-mail: warrick@ziptrek.com