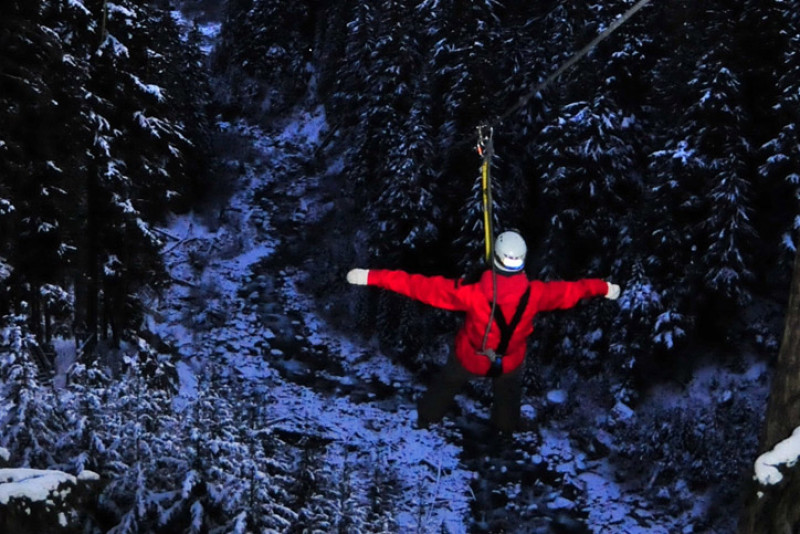 Not unlike the popular franchise, our Twilight Tours are for a certain group of people — except we don't call them Twi-hards. Twilight Tours are perfect for:


The Adventurous Traveller
Likes to fit in as much as they can in a day.
Have so many things you want to do on vacation you can't see how it is possible to fit them all in? A later tour time means plenty of time for skiing/riding or other activities during the day. Best part is, you're still back early enough for a nice dinner and a night out on the town.
The Thrifty Traveller
Enjoys a real sense of accomplishment when they've found a great deal.
Starting at $89, the Twilight Tour is one of the lowest priced zipline tours and includes 6 ziplines! You will experience the same thrill and same high level of guest service—just at a cost savings for you.
The Unique Experience Traveller
Always looking for a something different.
How many people do you know that have ziplined under the stars?! Experience the constellations like never before, soaring below them on a zipline. While we can't promise any Cullen sightings you may spot the alleged vampire ancestor, the bat.
The Holiday Spirit Traveller
Has been listening to Christmas tunes since November 1st.
Our course becomes a winter wonderland lit by thousands of twinkling LED lights. Explore the tree tops in the old growth rainforest by a soft glow and feel like one of Santa's reindeer flying through the night as you zip between Whistler and Blackcomb mountains.
The Night-Owl Traveller
Parties until breaking dawn and sleeps until noon.
These later tour times do not require you roll to out of bed at 8am. With night vision so evolved, these travellers likely won't even need one of the headlamps we provide. Ziplining around in the dark you might event of encounter a fellow nocturnal creature, like the Northern Spotted Owl.

If our Twilight Tours sound like something you would be interested in, check out our Twilight Tour page here and find available tour times here. Or you can call one of our helpful guest service agents 604.935.0001 and they'll give you the run-down. Happy travels!