This summer we're excited to offer 2 NEW options for our monster zipline tour - The Sasquatch®!
Option 1: via van / shuttle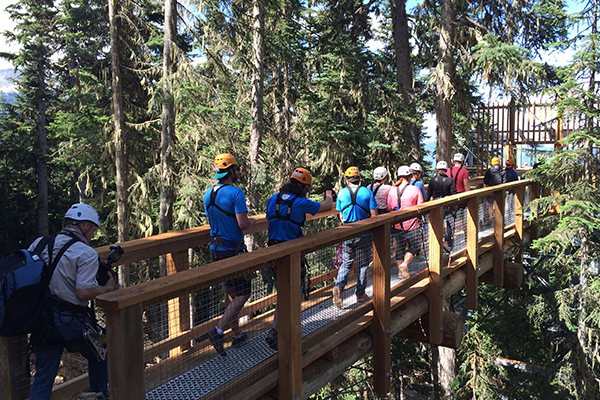 Begin your journey at our Village location and make your way to the top of Blackcomb Mountain in one of our courtesy vans. While on the way up you may get to see behind-the-scenes of the exciting upgrades happening to Blackcomb Mountain's lift system. Once you've made your way to the top, a short walk will bring you to The Sasquatch® launch pad. If budget is a factor in your decision, then our Van/Shuttle option is the best value, with tours for Adults at $129, and Seniors/Youth at $109. Note: This is the only option available for The Sasquatch® Combo Tours.
Option 2: Via Peak 2 Peak Gondola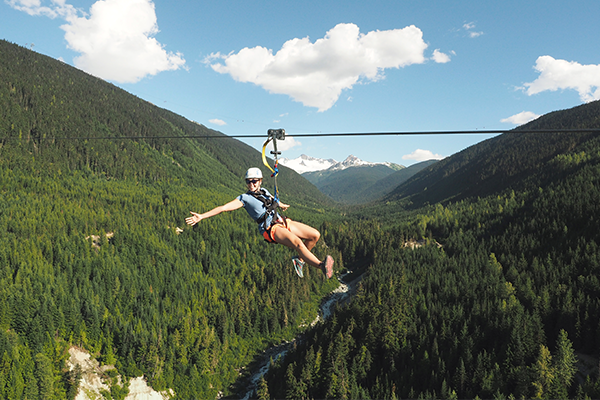 Once again beginning at our Village location, you will make your way first to the Whistler Gondola for a ride over the Whistler Bike Park and to the top of Whistler Mountain where the Roundhouse Lodge is. During your ride up be sure to keep an eye out for black bears underneath who can sometimes be seen grazing on the open ski runs. When you get to the top of Whistler, snap a quick photo before heading on your way to the PEAK 2 PEAK Gondola.
The record-breaking PEAK 2 PEAK Gondola links Blackcomb and Whistler Mountains. A feat of engineering, the gondola boasts the longest unsupported lift span in the world (3.024 kilometres or 1.88 miles). It is also the highest lift of its kind with an elevation of 436 metres (1,427 ft). The PEAK 2 PEAK Gondola offers up some amazing views, including a sneak peek at The Sasquatch zipline itself (weather permitting). Note: This is not the same as an unlimited sightseeing ticket on the PEAK 2 PEAK Gondola as it is only a one way ride.
Once you've crossed way up high over the Fitzsimmons River to the top of Blackcomb Mountain on the other side, snap another quick photo before heading in our courtesy van for a short ride down and then walk to the launch area. This option gives you the best views from both mountains, with tours for Adults at $149, and Seniors/Youth at $129.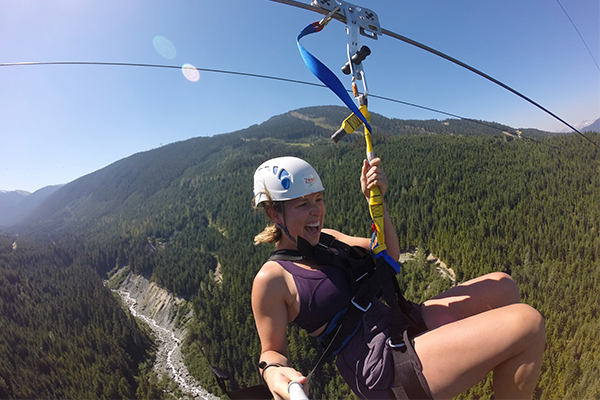 Both Tour options end with a download on the Whistler Gondola back to the main village, after zipping the longest zipline in Whistler, all of Canada, and the USA - The Sasquatch®. Come and experience it this summer!
Are you ready to experience 7,000 feet of pure eco-exhilaration? The Sasquatch® re-opens on June 9th, 2018!