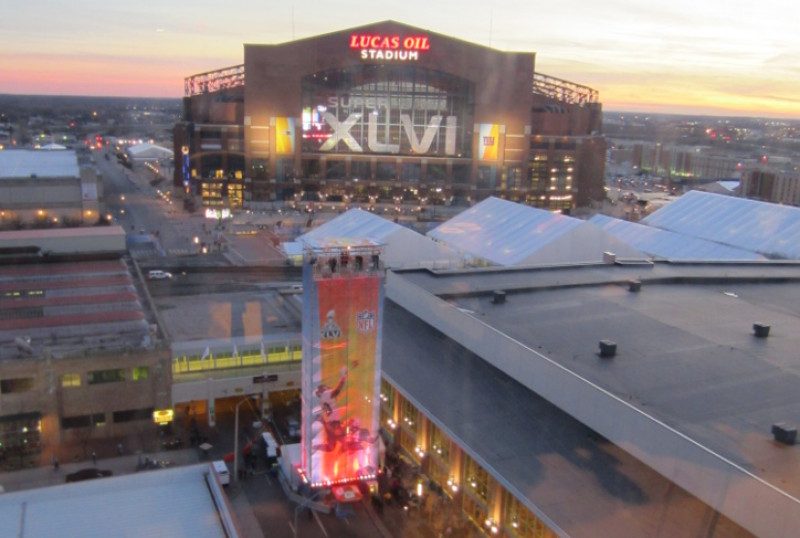 For Immediate Release

WHISTLER'S ZIPTREK ECOTOURS TO PLAY IN THE SUPER BOWL
Ziptrek will allow visitors to soar 800 feet above the ground
as part of this year's Super Bowl Village experience in Indianapolis

WHISTLER, BRITISH COLUMBIA, January 17, 2012 - The thrill of urban ziplining will be a featured part of this year's Super Bowl Village in downtown Indianapolis, Indiana – host city of the 2012 Super Bowl. With the zipline set to run directly down Capital Ave, adjacent to the Indiana Convention Centre, fun seekers will be enticed to thrill their senses by ziplining 800 feet over the heart of the Super Bowl Village.
Ziptrek Ecotours, based in Whistler, Canada, has partnered with the Indianapolis Host Committee (for Super Bowl XLVI) to bring this marvel to the city. Similar to what Ziptrek had set up in downtown Vancouver for the 2010 Winter Olympics – the company and organizers expect this to be another wildly successful draw as witnessed with the long lines at the Olympic celebration site. The Super Bowl Village zipline will be Ziptrek's largest onsite installation yet, a parallel 4-line set up with a longer total run length at 800 feet /244 metres.
Scheduled to run for 10 days, beginning January 27 and right up to game day, February 5, the attraction is sure to garner significant interest from a wide array of Super Bowl visitors. Perfect for virtually all ages - families and adventure seekers alike will be able to experience the thrill of ziplining in an urban environment.
"Ziptrek is absolutely thrilled to be part of an event as significant as the Super Bowl," says David Udow, CEO and Co-founder of Ziptrek Ecotours. "This is a tremendous opportunity for our company to showcase ziplining in a very exciting and unique environment, not to mention the chance to thrill thousands of people who perhaps have never experienced it before. It also highlights Ziptrek's ability to create a world class experience that can support and bolster grand scale events such as these."
For more detailed information on the Super Bowl Village site, access, parking, and other particulars, key information can be found at the organizers main site - www.indianapolissuperbowl.com/
Ziptrek Ecotours is a global leader in zipline based, adventure ecotourism. Ziptrek's flagship location in Whistler, Canada first brought prominence to ziplining in North America and a second world class location in Queenstown, New Zealand is now setting the standard for zipline based tours in the southern hemisphere. These two landmark locales and other high profile projects including ziplines in downtown Vancouver, Canada as a feature attraction of the 2010 Olympic Winter Games have established Ziptrek Ecotours as a preeminent name in the adventure tourism industry. To learn more visit www.ziptrek.com
-30-
For further information:
Warrick Hubbard
Director of Marketing, Ziptrek Ecotours
E-mail: warrick@ziptrek.com