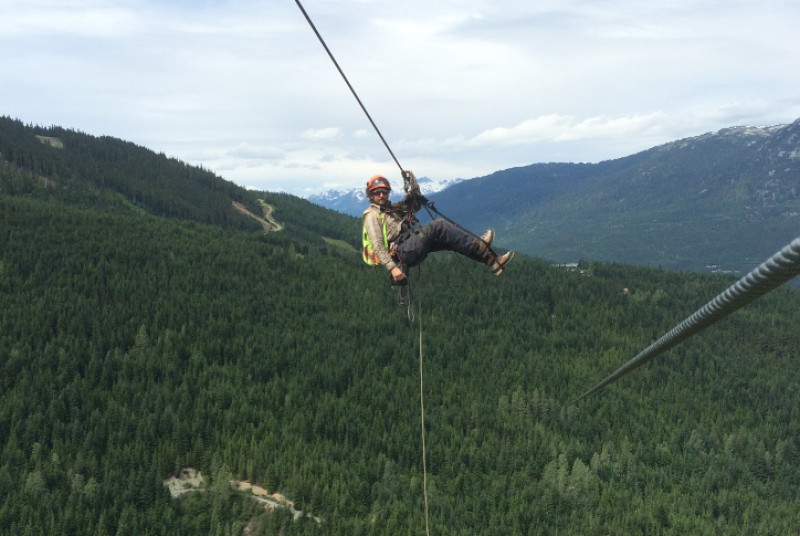 WHISTLER'S ZIPTREK ECOTOURS TO LAUNCH LONGEST ZIPLINE IN CANADA & US!
Adventure seekers take note. Ziptrek preparing to launch a zipline spanning
over 2 kms long, creating 7,000 feet of unmatched pure exhilaration!

WHISTLER, BRITISH COLUMBIA, March 24, 2015 – Ziptrek Ecotours, based in Whistler, Canada, is setting the stage to launch a ground-breaking zipline this summer in the world renowned resort destination. Being the pioneer of zipline tours in North America, Ziptrek is no stranger to unveiling innovative and cutting-edge zipline installations. As a global leader in the industry, this latest installment is in keeping with their award winning reputation.
Set to run a mind-blowing distance of over 2 kms, the zipline will fly guests from a launch high up on Blackcomb Mountain to a landing near mid-mountain on Whistler Mountain, making it the longest zipline in the USA and Canada. "This will be a game-changer without a doubt!" says Ziptrek CEO Charles Steele. "For those familiar with the world record breaking Peak to Peak Gondola, this zipline rides a similar path, spanning the 2 Mountains, from a high elevation. You can just imagine the views from up there are simply spectacular, where riders will be able to get an amazing perspective of their complete surroundings. That is, when they take the opportunity to take it all in – because it will be quite the thrill ride!"
Currently set to open in mid-July, the zipline will be run as a solo offering, and as a tour product. A first for Ziptrek, who typically specialize in tours offering multiple ziplines at their permanent locations. "Given the sheer significance of this offering, and knowing some adventure seekers are simply looking to do the best out there, there will be the single zipline experience, but also a tour version available", says Steele.
For more detailed information on Ziprek's current operations, and to keep abreast of developments on the new line, please visit their website at ziptrek.com.
Ziptrek Ecotours is a global leader in zipline based, adventure ecotourism. Ziptrek's flagship location in Whistler, Canada first brought prominence to ziplining in North America and their second world class location in Queenstown, New Zealand has now set the standard for zipline based tours in the southern hemisphere. Ziptrek Tremblant, in Quebec, Canada is poised to continue this trend of delivering unique and unparalleled guest experiences. These three landmark locales and other high profile projects including ziplines in downtown Vancouver, Canada as a feature attraction of the 2010 Olympic Winter Games, and an installation at Super Bowl Village 2012 in Indianapolis, USA have established Ziptrek Ecotours as a preeminent name in the adventure tourism industry. To learn more visit ziptrek.com
-30-

For further information:
Warrick Hubbard
Director of Marketing, Ziptrek Ecotours
E-mail: warrick@ziptrek.com