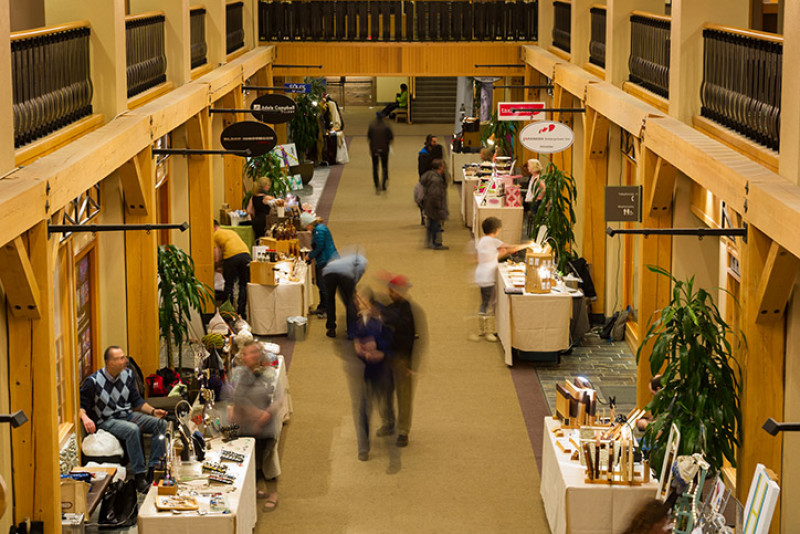 Photos: Mike Crane, Tourism Whistler
The amount of talented artisans and eco-conscious companies in Whistler makes it easy to keep the environment happy while giving great gifts. From the Village Stroll to holiday markets this is the perfect place to do your holiday shopping. Here are a few of our favourite green gift ideas:
Candles
Hollow Tree makes coconut wax candles with a 60 hour burn time. Coconut wax is considered better for air quality because it is non-toxic, meaning it won't release toxins when burned like traditional candles. We recommend their locally inspired scent collection; Brandywine Meadow, Black Tusk and Shannon Falls, they're a special way to gift or take home a little piece of Whistler. You can feel good about your purchase knowing $1 from every sale goes to WAG, the Whistler Animal Shelter.
Where to find: Arts Whistler Holiday Market, 3 Singing Birds
OUTDOOR GEAR
Patagonia is one of the biggest names in the outdoor industry and for good reason, their products are high quality and so are their values. The strive to be as sustainable as possible and transparent about their footprint and supply chain. Their products are made to last, giving the gift of their gear will keep someone able to enjoy the outdoors for years to come.
Where to find: Whistler Village, 119-4350 Lorimer Rd
Outdoor Guide Books
Speaking of getting outdoors, Armchair Books is the go-to for Whistler guide books. If you have an adventure or nature lover on your list The Whistler Book, All Season Outdoor Guide will be a hit.
Where to find: Whistler Village, 4205 Village Square
Jewellery and Accessories
Re:creation makes beautiful necklaces, earrings, bracelets, accessories and clothing from upcycled materials. With pieces in every budget range, giving the gift of one-of-kind wearable art easy!
Where to find: Made in Whistler Artisans Market and selections from the range can be found at Millennium Place, The Oracle, Nita Lake Lodge and Triangle Health & Wellness Whistler.
Chocolate
Chocohappy makes small batches of delicious artisan chocolates using only natural ingredients. They've kept their packaging paper so there's no plastic waste! We recommend the seasonal flavours they have out right now including Holiday Mint and Gingerbread Caramel. These make the perfect stocking stuffers.
Where to buy: Made in Whistler Artisans Market
The Gift Of Adventure
Gifting experiences instead of things is not only one of the most environmentally friendly but it's likely to be the most memorable too. Think someone in your life would enjoy ziplining or trekking through the treetops? Check out our Adventure Gift Guide to see what tour gift certificate would be perfect for them.
Happy shopping!